Nothing finishes off a room when decorating more than coving.
Whether you need me to plaster the walls first or not, I can help finish off your room by supplying and fitting coving to the highest quality, whether your room is a standard box shape, or whether you have a number of walls and alcoves.
Why not get in touch for a competitive plastering quotation?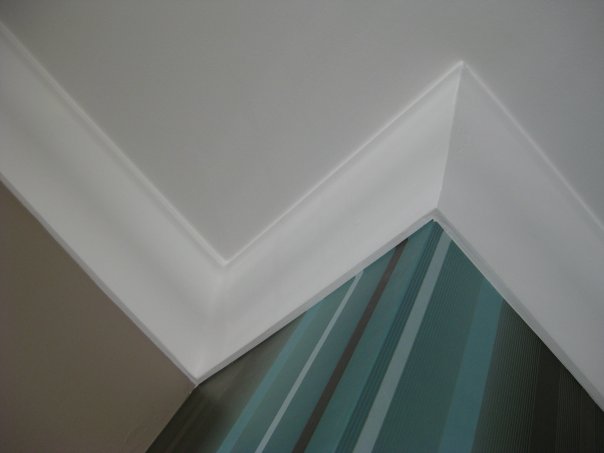 There are a range of options when it comes to fitting coving in your room and there are two key factors when choosing coving.
Size Of Your Room
The size of the room that needs coving determines the size of coving you should opt for. Well-fitted coving finishes off your room, without being overbearing. Typically, sizes are around 90mm or 127mm width.
The Style of Your Room
Depending on the style of your room, you can choose a standard coving or opt for a more decorative option or cornice (coving is a standard cornice option). Cornices come in a range of styles with various moulded patterns.
Obviously, price plays a part – the more decorative cornice you choose, the higher the price of the product.
I can help you chose an appropriate coving for your room style that will suit your budget. I tend to use plaster coving as this is the most robust and offers a better looking finish.
Getting A Price For Coving
We can visit your home to talk through your coving requirements, the styles available and the options of cornice you may want to choose. You may already know the type of coving you would like, and we can also advise you.
Our coving prices are based on the materials we will need plus the time it will take to fit the job. ie. The more complicated the layout and shape of your room, the more the job will cost due to materials, off-cuts and time.
Why not get in touch for a competitive plastering quotation?
When it comes to us fitting coving in your home, the time a job takes depends on the size of room, but the process is relatively quick. The plaster coving is cut to length and bonded to the wall and ceiling.
No two walls, edges or corners are the same so we take care to ensure that as our coving fitter measures corners and lengths, he also takes into considerations any blemishes and inconsistencies in the wall.
The result is coving that can easily be painted to finish off your room.
As I am very often busy plastering, it may be best to fill in the form and I will get back to you at a convenient time.
Or, if your call is more urgent, please call me: